Data Science is a job role in the world that is gaining momentum with time and estimations suggest that more than 11 million job vacancies will flood by 2026 in India. Accordingly, many aspirants are emerging in the field to learn Data Science and develop skills, transitioning into the career. Significantly, there are myriad of courses provided by different institutions, including bachelor's and master's level courses as well as online certification programs. However, many of you might be searching for how to learn Data Science for free. Well, there are various free Data Science courses in the market which you can opt for. However, you need to know about the required skills in Data Science for assessing if the course you choose ensures its development. Let's read the blog for more!
Required Skills in Data Science
Data Science is a technical field which requires you to perform several functions for gathering, collecting, analysing and interpreting data for an organisation. Accordingly, you will require both technical and soft skills as a Data Scientist. Make sure that when you search for free Data Science courses with certifications online, you analyse if by the end the of course, you will develop the following skills.
Technical Skills
Programming Languages

Statistics

Mathematics

Database Management

Data Visualisation

Machine Learning

SQL
Soft skills
Communication skills

Analytical Skills

Problem Solving skills

Teamworking skills
Free Data Science Courses
In order to develop Data Science skills, you need to ensure that you have the right guidance and mentorship where you learn about Data Science concepts. Effectively, you do not have to be from a technical background to become a Data Scientist or enrol in a Data Science course online. 
Pickl.AI 
Considerably, as many of you want to know about best Data Science courses, one of the best is Pickl.AI in India today. Additionally, for those looking for Free Data Science courses with certificates online, you can choose Pickl.AI for the same.
With machine learning being one of the most significant aspects of Data Science and requiring you to analyse data using Machine Learning algorithms, the course emphasises on the same field. the ML-101 is an intuitive Introduction to Machine Learning, which is a free Data Science course offered by Pickl.AI. Following are the features of the Free Data Science courses online:
It allows you to build a strong foundation in the core concepts of Machine Learning.

It allows you to have hands-on experience in Exploratory Data Analysis and Feature Engineering.

Help you develop foundations of Machine Learning before building and training a ML Model.

Foundations of Machine Learning before you begin your Data Science journey.

Taught by in-house Data Scientists and veterans from the industry.

1 on 1 mentorship sessions.

Certificates after successfully completing the course.
The entire course on Machine Learning will enable you to gain knowledge on the core concepts of Machine Learning, preparing you for your future career path. Additionally, you can check out the demo videos from the course before buying to give you a clear idea about the same. You will also receive certification of completing the course after you have successfully fulfilled all the requirements.
edX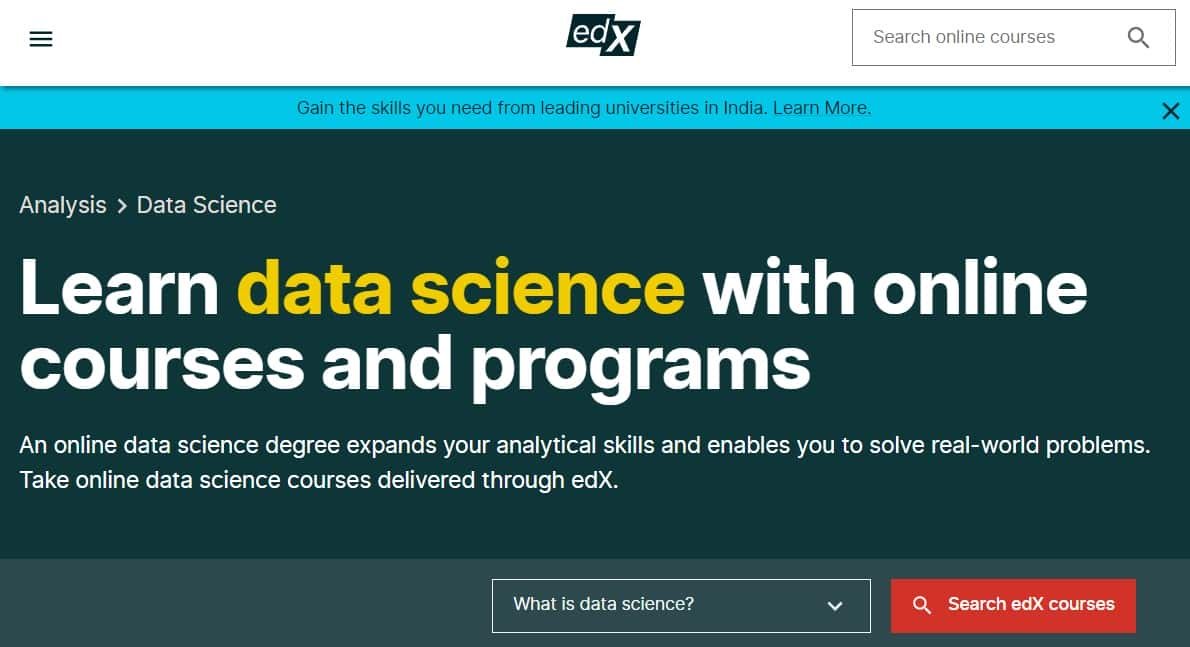 edX is an American free Data Science course provider offering an introductory Data Science course for beginners. Following are the main features of the course:
Definition of Data Science and role of Data Scientists.

Important skills to become an expert Data Scientist.

Data Science tools and algorithms

How to gather a strong Data Science team.

Role of Data Science for businesses.
It is one of the best Data Science courses online in the market which is free although, you can get a verified certification only after a certain payment amount.
Google Cloud
A Free Machine Learning course is offered by Google Cloud where you get access to video lectures, practice exercises and case studies. You learn with Google AI which helps you customise your learning experiences. additionally, you get consolidated videos, sample codes, courses and tutorials as part of the course.
How to Learn Data Science for Free? Step-by-Step Guide
If you want to learn Data Science for free and develop your skills as an entry-level expert, here are the steps that you should follow:
Step 1: Learn Programming languages like Python or R

Step 2: Learn Maths and Statistics for conducting computational and statistical analysis.

Step 3: Learn Data Science libraries like SciPy, Matplotlib, Numpy, Pandas, etc.

Step 4: Learn SQL skills for analysing data effectively.

Step 5: Learn Data Visualisation for efficiently presenting data in graphical and image format.

Step 6: Expand your Machine Learning skills by learning about core concepts and developments of training model. You can opt for the free course by Pickl.AI for the same.

Step 7: Participate in Data Science competitions and indulge in projects where you express you practical experiences solving real-world business problems.
Conclusion
From the above blog, you get an idea regarding the skills you need as a Data Scientist and the effective steps you need to follow to become an expert. However, if you want to opt for a Free Data Science course, you should choose Pickl.AI which allows you to build a foundation before expert knowledge.